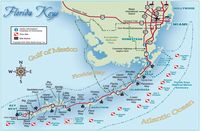 The Florida Keys consist of a chain of islands, connected by 42 Bridges that begin at the southern boarder of Miami Dade County and extents more that 126 miles to the Southern most point in the Continental United States, Key West. The Keys highway mile markers are commonly used for reference throughout the Keys as anyone who has traveled down the Overseas Highway has noticed. A drive down US Route 1 is a great way to experience the beauty of the surrounding waters and local color.

The Keys are divided into three area's Upper, Middle, and the Lower Keys. The Upper Keys begin just below Biscayne Bay however the Florida Keys experience for many begins on the drive down the 18 Mile Stretch. An area of transitional wetlands where the The Florida Everglades, Florida Bay, and the Atlantic Ocean meet. The 18 Mile Stretch is one of two roads that connects mainland Florida with the Florida Keys. The other is Card Sound Road a little longer and slower trip that also has a toll bridge on it.

Once through the stretch, you enter Key Largo, MM (mile marker) 107.2. The proximity to the Mainland makes Key Largo, Tavernier, Islamorada, and Upper and Lower Matecumbe, a popular weekend destination for many from the mainland. It also affords residents a short drive and to put it as locals do, "get off the rock".


The Middle Keys begin at MM 71.8, heading South on US 1, also known as the Overseas Highway, you will find Duck Key located at MM 60 Oceanside. Duck Key is a mix of residential homes and the Resort at Hawks Cay, a leading Keys Resort that incorporates town homes and villas, into its resort. The island also offers waterfront and non waterfront homes and deep water access. A little further south you will come upon the City of Marathon also known as Key Vacca. The first area of the city you will see is Grassy Key, primarily a bay front community with several resorts located ocean side on the Oversea Highway. Next you will come upon Key Colony Beach, a resort town with exclusive beach front living and canal homes, located Oceanside at MM 53.5. The City of Marathon continues south to MM 47 where the 7 Mile Bridge begins. Most day trippers tend to stay above the 7 mile bridge.


Average Weather in the Florida Keys
Average annual temperature: 80 degrees
Average annual rain average: 40-45 inches

Average Temperature and Sunset Times:
MONTH
TEMP.
SUNSET
January
February
March
April
May
June
July
August
September
October
November
December
70
71
73
77
80
82
84.5
84.8
83
79
74
71
5:50 pm
6:16 pm
6:31 pm
7:45 pm
7:58 pm
8:15 pm
8:22 pm
8:11 pm
7:45 pm
7:13 pm
5:47 pm
5:38 pm
Florida is in the Eastern time zone
and participates in daylight savings time.
Once across the bridge you enter the Lower Keys, Here you will find Little Duck Key, Missouri Key, Ohio Key also known as Sunshine Key which hosts one of the Keys largest waterfront camping destinations and marina. Next at MM 36 is Bahia Honda Key, which hosts Bahia Honda State Park. The beach at the park is consistently ranked one of the top ten beaches in the world. No Name Key a community living off of the grid, lies just to the northeast of Big Pine Key. Continuing south past Big Pine Key are the Torch Keys, Little Torch Key, Middle Torch Key and Big Torch Key. Then on to Ramrod Key, Summerland Key, Cudjoe Key, where some of the deepest boating access canals are located in the Lower Keys. Then onto Sugarloaf Key which has both ocean front and bay front communities. Saddlebunch Keys, Shark Key, Geiger Key, Big Coppitt Key, East Rockland Key, Rockland Key, Boca Chica Key where Naval Air Station Key West is located, Key Haven, Stock Island, Key West, Sigsbee Park, Fleming Key. The Overseas Highway ends at MM 0 which is located on Truman and White Street in Key West. Sigsbee Park a Naval housing base and Fleming Key also a military installation lay to the west of the island of Key West.
---
Buyers' Tools
---
Florida Keys Utility Companies
---
Florida Keys Electric Cooperative
serving Key Largo, Tavernier, Plantation Key. Windley Key, Upper and Lower Matecumbe, Long Key, Duck Key, Grassy Key and Marathon.
Keys Energy Services
serving Big Pine, Big Torch, Little Torch, Middle Torch Key, Ram Rod Key, Summerland Key, Sugar Loaf Key, Saddle Bunch Keys, Big Coppit Key, Stock Island, Bocca Chica Key and Key West.
Key Aqueduct Authority
serves all for the Florida Key for water service.
---
ROGO and Building Permits
---
Layman's Guide to Florida Keys ROGO
Florida Keys Rate of Growth Ordinance explained. (Opens as Acrobat Reader file)
Layman's Gukde to Big Pine Key ROGO
Big Pine Key Rate of Growth Ordinance explained. (Opens as Acrobat Reader file)
---
Real Estate & Business Resources and Partners
---
Florida Keys Businesses
---
Reef Light Tackle
The best fishing tackle, bait selection and friendly knowledgeable staff anywhere in the Florida Keys and Key West.
Chicago Title of the Florida Keys
Florida Keys title insurance rates.
Surfside Aluminum of the Florida Keys
Florida Keys Storm Shutters, Screened Areas, and Gutters.
Big Fish Charters
Florida Keys Fishing Charters - Deep Sea, Deep Drop, Offshore, Reefs, and Wrecks.
Bluewater Boat Brokerage
Quality pre-owned boats. We broker the buying and selling of Sportfisherman, Motoryachts, Trawlers & Commercial Vessels in the Florida Keys.
Tarpon and bonefishing guide.
Ghost Hunter Fishing Charters, sight fish the flats around Big Pine Key, service from Marathon thru Key West.
Florida Keys Dining Guide
A guide to restaurants and bars in Key West and the Florida Keys.
---




John Nazzaro PA, SFR
REALTOR®
Keller Williams Realty Premier Properties
Selling Real Estate from Key Largo to Key West.
Email:
JohnNazzaro@bellsouth.net
305-731-9370